Sub-Saharan Africa makes up 75% of the global total number of persons without access to electricity. 759 million persons are without electricity in the world.
Nigeria, DR Congo, and Ethiopia lead in the list of African countries whose citizens are without electricity. These three nations contribute over 118 million persons to the global deficit of 759 million persons without access to electricity.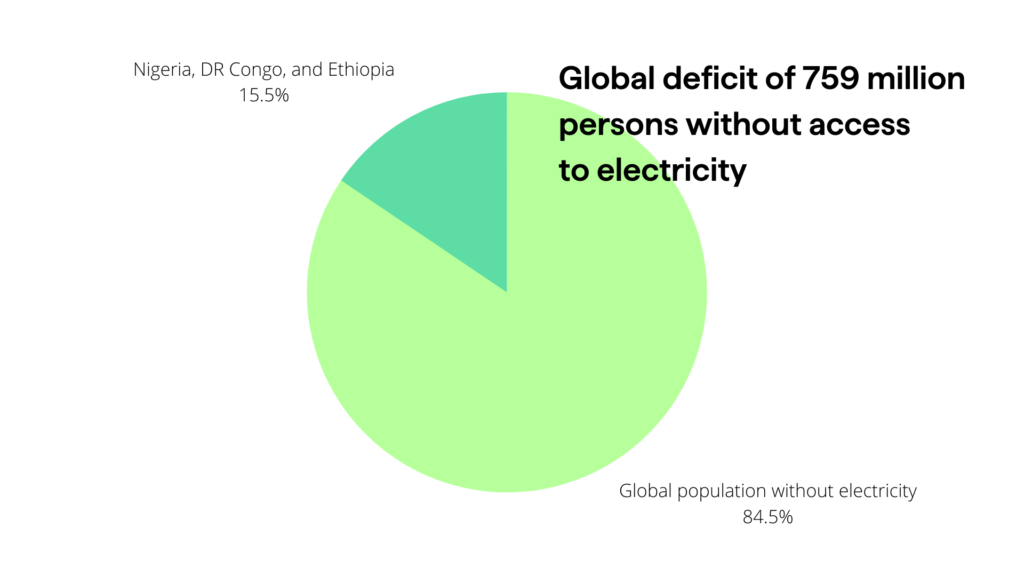 Sub-Saharan Africa is also home to the world's 20 least-electrified countries. South Sudan leads with the lowest access rate of less than 7 percent. Next is Chad (8 percent), then Burundi (11 percent), and Malawi (11 percent). However, between 2010 and 2019, ten of these least-electrified countries were able to increase access to electricity at an annual rate that was greater than the world average.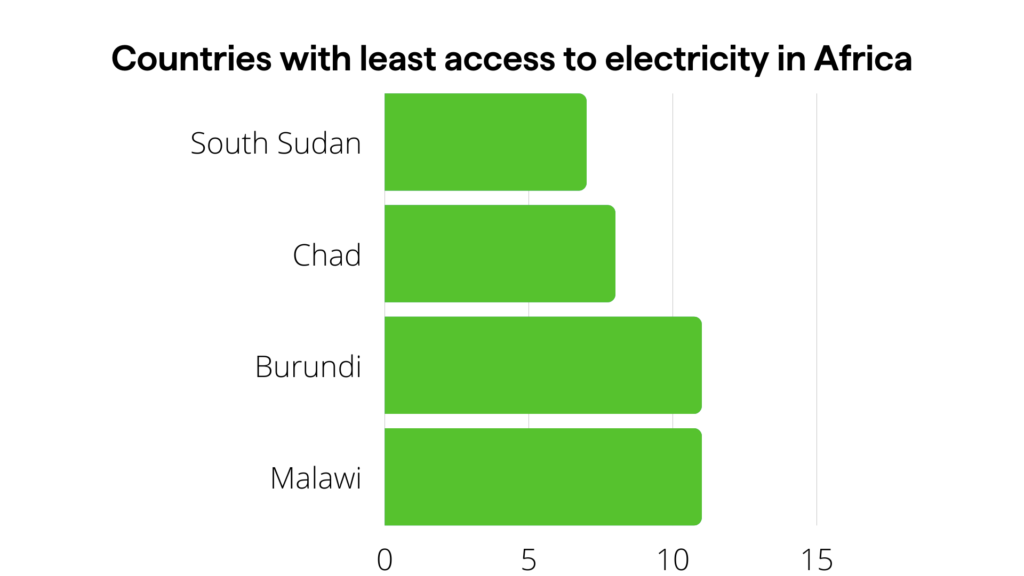 Furthermore, Kenya and Uganda have achieved the most in the drive to make electricity available to their citizens. Kenya's rate of connectivity to electricity for its citizens reached 75% at the beginning of 2021. In 2016, the rate was just 53% and progress continues.
Their goal of reaching 100% electrification by the year 2026 is beginning to look much more attainable.
Much of the recent decline in the number of Africans without electricity from 610 million in 2013 to 597 in 2021 is a result of the governments of Kenya, Ethiopia, and Tanzania's dynamism in driving the rate of access to electricity for their citizens. 50% of all Africans who gained access to electricity during this period are from these countries.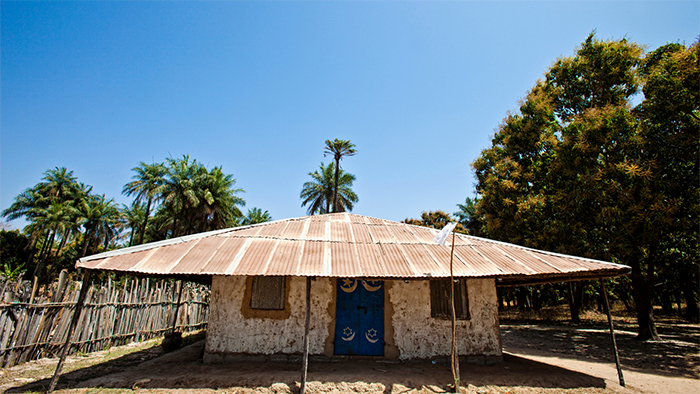 Uganda's Bureau of Statistics shows that the national electricity access rate now comprises 19% and 38% on-grid and off-grid connections respectively and the total connectivity has increased to 57%.
Within the space of a few years, Kenya, Tanzania, and Ethiopia also led the way in the adoption of solar energy.
Compared with other parts of the world, sub-Saharan Africa's total access to electricity remains rather very low at just 45% in 2021.
In the light of all these developments on the African continent, CnergyFund, founded by Akeem Amusa, is launching into the African energy space to promote access to electricity through crowdfunding and clean energy.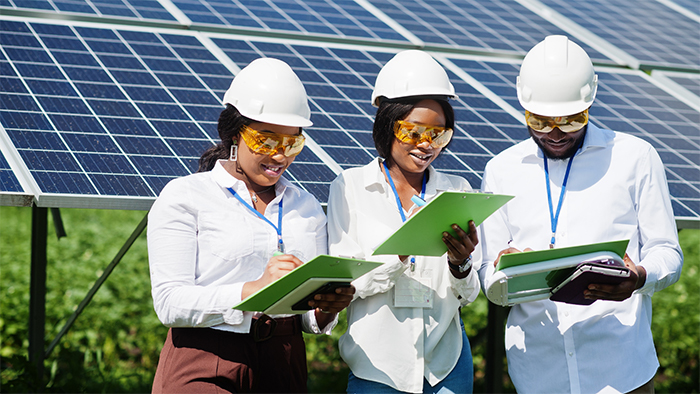 We catch up with Amusa with a series of important questions at his office in Sheffield, South Yorkshire in the United Kingdom, to learn more about his interests, activities, and plans to get more Africans to have access to electricity.
What is the most important problem that you believe Africa needs to solve?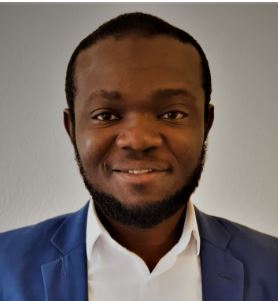 Amusa: There's absolutely no denying that most of the low-income countries of the world are in sub-Saharan Africa, and one can see that there's a correlation between electricity access in these countries to their living standards. Currently, most of these countries have less than 30% of their population having access to electricity which has a direct impact on their productivity, hence the reason for the very low living standards (due to poverty) in the sub-region.
Take, for example, only 11% of Malawi's population has access to electricity, Sierra-Leone at 23%, Burundi at 11%, Niger at 19% and Madagascar at 27%. These countries are considered Low-income countries according to the World Bank. I'm one hundred percent confident that if this scourge of poor electricity supply is solved in the region, we'll see a dramatic increase in productivity in the region, especially with its high youth population as compared to other parts of the world.
What inspired your interest in the African power sector?
Amusa: Well, this all started sometime in 2017, I was working on an idea to provide resources to smallholder farmers in farming communities in Nigeria to increase their farming capacity (e.g. scaling from 1-2 hectares of cultivation to 5-10 hectares). I travelled to a few states and visited typical farming communities and I noticed the same trend across these locations.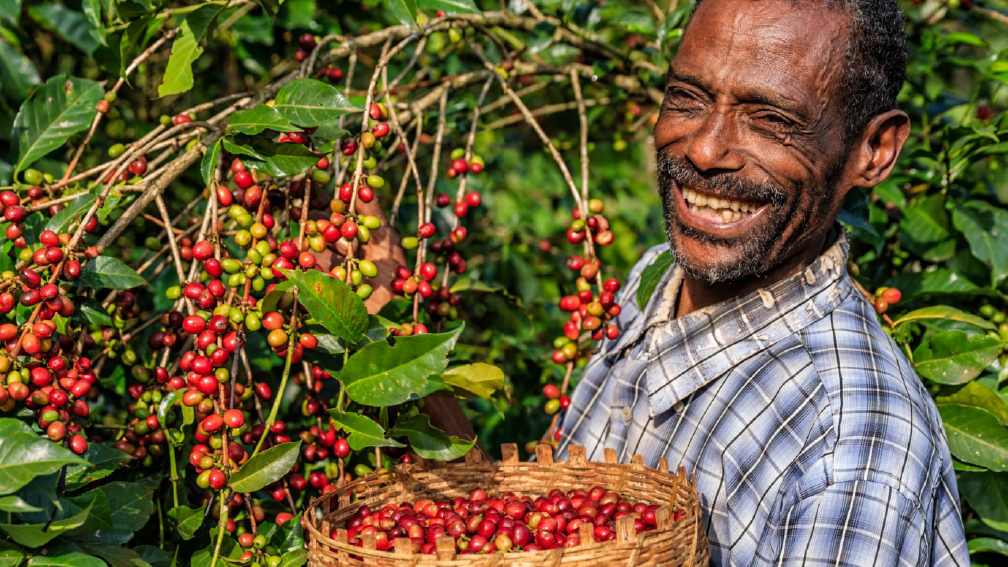 The smallholder farmers could not scale up their cultivation because their primary market, the neighbouring communities have weak economic strength and are not able to purchase their produce, hence farmers lose their harvest to spoilage as most of the farmers don't have storage or processing facilities.
A closer look at the demography of the neighbouring communities shows a variable mix of farmers, artisans, and low to middle-income earners who work in the city but live in these communities because it is much cheaper.
However, here lies the problem: there is no electricity supply in these locations. Artisans spend most of their income on buying fuel to power generators so that they can do their jobs. The low to middle-income earners in the community also spend money on power generators for their homes.
In view of all this, I decided to tackle the problem from its root rather than just solving the smallholder farmers' problems. I realized that by providing access to cheaper and cleaner energy, the farmer's primary market, that is the income earners in the community, will save more money which would, in turn, increase their spending power to buy crops harvested by the farmers.
This is how our business idea was born and became focused on using SDG 7 (clean and affordable energy) to tackle SDG 1 (Zero hunger) and SDG 2 (No poverty). Food security is still a major problem on the African continent.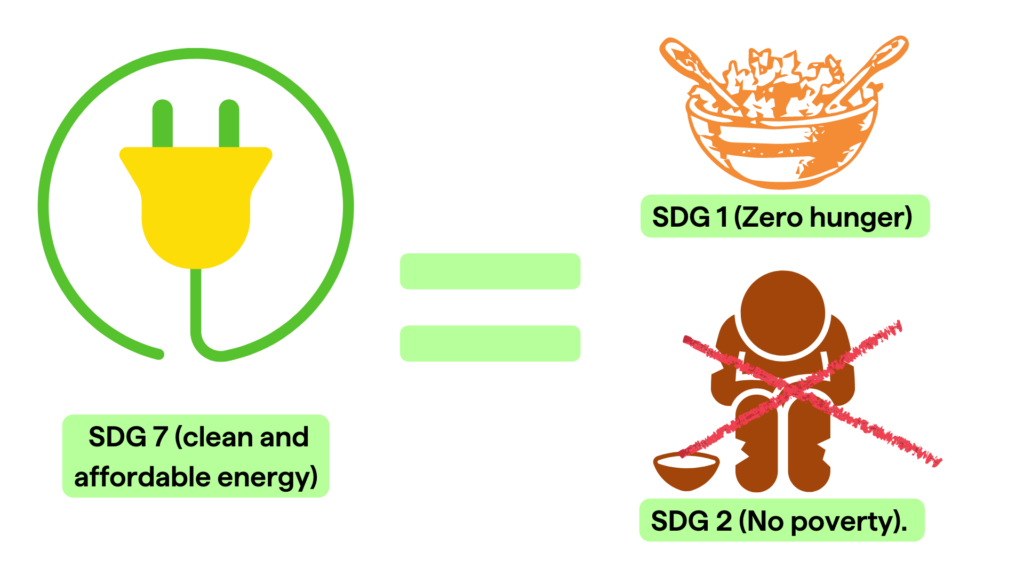 Do you believe that solar power is the best solution to Africa's power problems? If yes, why?
Amusa: Absolutely.
Although solar energy mini-grid solution is not the only renewable energy source that CnergyFund is focused on for the off-grid solutions in the rural communities, solar energy technologies offer a promising path to solving the rural electrification challenges. as most of the unconnected parts are the rural communities considering the high cost of grid extension to those areas. Photovoltaic for example offers easy deployment, lower maintenance, modularity, and most importantly competitive costs. Furthermore, solar photovoltaic is a perfect energy solution in Africa because of the high solar irradiation in the region for the most part of the year.
Why did you call the company CnergyFund?
CnergyFund emanated from the idea of creating a synergy of different stakeholders to Fund C-lean energy projects. So, it's pronounced 'synergyfund' but literarily implying Clean-Energy-Fund.
We have various stakeholders involved such as impact investors (both individuals and institutional). We also have carbon offset partners. This partnership is key to making our business model work such that we are able to make significant progress and fund renewable energy mini-grid projects in sub-Saharan Africa.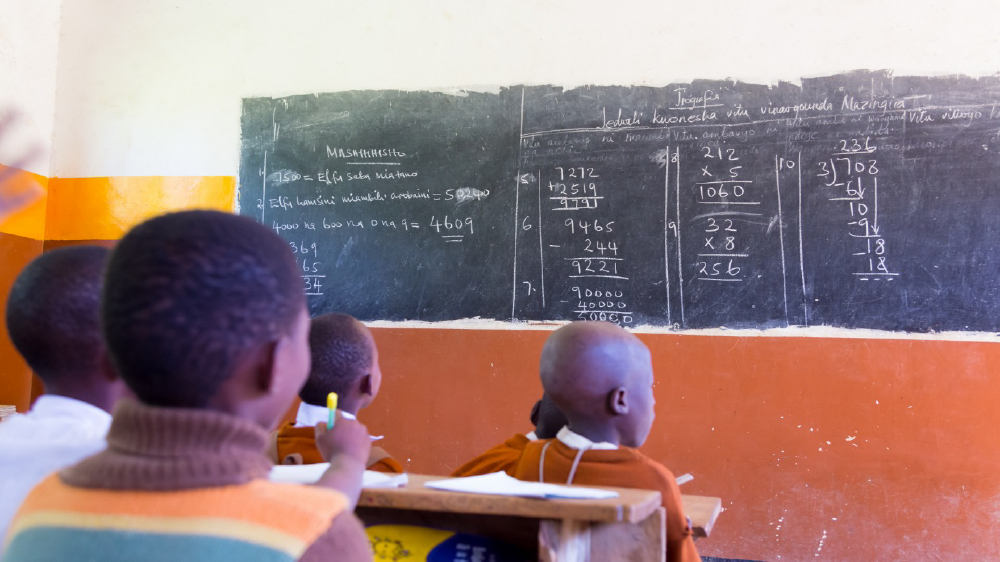 Do you have a startup team and who is on your team?
Amusa: Yes.
I have an MBA (Global Financial Services) from Coventry University, UK, with work experience in Financial Services. I have also completed an MSc. Sustainable Resource Management (with specialization in Renewable Energy) at the Technical University of Munich with the SDGs at the heart of the discourse. The thesis: ESG Reporting, Formal Requirements and Investments in Impact Projects in sub-Saharan Africa (SSA); Comparative Analysis of Key Metrics of Major Oil Companies).
Another research is group research with other sustainability enthusiasts like me that is titled: Project Study: Sustainable Venture Funding through Impact Investing – Exploring Investment Strategies of Impact Investors Investing in Clean Energy in sub-Saharan Africa (SSA).
My academic and career journeyis focused on the vision and specific objectives to drive the CnergyFund business strategy and its implementation. An additional key resource is the knowledge of the socio-economic and political dynamics of the African terrain so as to evaluate the risks and viability of projects.
Two new team members have been sourced for but are yet to commence their duties. One of the new team members has extensive knowledge in the African region with a 5-year work experience with McKinsey South Africa. The other is currently completing his PhD in Solar Photovoltaic Research and Optimization.
The team also comprises a team member with an MSc. In Global Finance who is a placement student from Coventry University and is on a 6-month placement programme. Furthermore, we have 2 placement students from Sheffield Hallam University.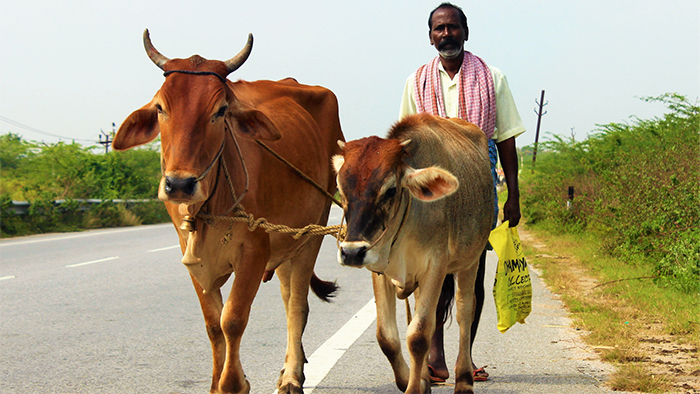 Where do you see CnergyFund 5 years from now?
Being a sustainability enthusiast and an advocate of "going green", my activities over the past few years have been tailored towards contributing my quota to solving some of the SDG goals. My country of origin is Nigeria, and I have a firsthand understanding of what it means to live in a society where a large number of persons live below the poverty line. This experience has been a major driver in all the social-enterprise activities that I commit to.
By enabling more persons to gain access to clean and affordable energy, we will be achieving five other SDGs simultaneously. These are SDGs 1, 3, 4, 8, and 13. By providing clean and cheaper energy to communities, there's less pollution (as the low-middle income workers often use fossil fuels to power generators and thereby provide energy for their homes and businesses. This is way more expensive and may constitute up to 40 percent of their household or business income.
In the next 5 years, we want to be able to effectively document, measure, and communicate these impacts that we have envisaged for targeting rural communities towards confirming that our providing access to clean and affordable electricity will promote each of these SDGs in these communities.
How would you like your stakeholders to perceive CnergyFund?
Over the past 18 months, we've been able to build networks and relationships with potential partners within the sub-Saharan Africa region. The purpose of these partnerships is to facilitate the due diligence process and identify eligible projects. In the UK and the EU, we are also expanding our partner network. For example, we've just signed an MoU with Climate Partner GmbH, a global giant in providing services to support emission reduction projects across many countries.
We want to be the go-to lending platform for mini-grid developers to consider when they have projects and need support and guidance that will empower them to successfully raise project finance from impact investors.
With regard to the investors, we're using our expertise and knowledge of the African terrain to successfully review target projects based on their risk levels. We plan to mitigate the different risk factors through the alliances we've built and are still building with our various partners. This should help to reduce the perceived fear of high-risk factors associated with investing in projects within the African region.
Our robust selection process for companies that are offsetting their CO2 emissions on renewable energy projects, allows us to only onboard projects with high-quality standards such as the Gold Standard or Verra. Following this principle provides us with transparency in the validation and verification processes.
You can follow Akeem Amusa via LinkedIn (https://www.linkedin.com/in/akeem-amusa-93578764/) and follow CnergyFund (website) via Facebook (URL) or Twitter (URL).
Credits:
https://www.statista.com/statistics/1221698/population-without-access-to-electricity-in-africa/
African Development Bank
IEA's latest Africa Energy Outlook 2019